Want to channel your inner Jane Birkin but don't have the goods? Look no further than these key items…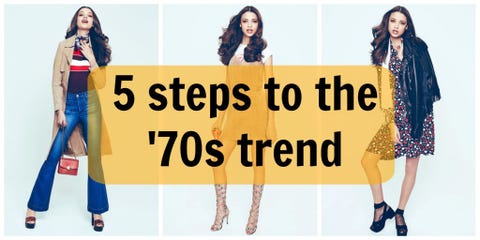 It may be 2015 but there is NO escaping the '70s at the moment.
All manner of throwback collections made their way down the runways during the spring/summer AND autumn/winter 2015 Fashion Week shows, proving that this era of style is back and here to stay.
What does that mean for you and me?
Well, it means that you either embrace flares, or join the club of nay-sayers who can't believe they're back in fashion, you jump on the suede train, dig out your best pair of retro sunnies and enjoy all the fabulous prints hitting the high street.
Here's our lowdown of the five key pieces you need to make the '70s trend happen…
1. THE FLARES
If there is one thing you should buy this season, it's a pair of flares. Tuck in your retro tee or vintage blouse and add a sweet neckerchief to finish off the look.
Jeans, £40, Topshop
2. THE LACE-UP SANDAL
A real statement shoe, these sandals look immense with floaty dresses or floral culottes.
Sandals, £100, Aldo
3. THE SUEDE JACKET
Suede is a true '70s staple and the easiest way to mix it in to your wardrobe is with a jacket.
Jacket, £100, Dorothy Perkins
4. THE RETRO GLASSES
Whether opticals or sunglasses, the rule here is: the rounder, the better. Go oversized for a full on look, or rock these Raybans á la John Lennon.
Sunglasses, £113, Rayban at Sunglasses Shop
5. THE QUIRKY PRINTED DRESS
Think paisley carpet prints in warm colours rather than your staple floral. A pussybow collar or button up front is a must-have, and you can rock a mini or a maxi.