Here are my 10 big takeaways from going to Aldi for the first time, including a breakdown of price between a few staple items between Aldi and Publix.
1. Yes, things are really, really inexpensive.
Is there any reason in the world to pay more than 99 cents for corn chips? I can't think of one. Then again, we really aren't eating corn chips all that often. But that milk that looks like a cross between, er, two brands that rhyme with Shmonyfield Shmarm and Shmorizon? It's really inexpensive, nearly $2 less than the Publix brand of organic milk. That's hard to resist. And if the bigger companies are okay with the imitators, so am I.
Aldi also has some brand-name items at very low prices, like five-ounce cans of Old Bay Seasoning, a necessity in any Southern cook's kitchen, for a full $2 less than my regular store. They also had Cafe Bustelo (10 ounces) for $2.89. My regular store? $4.39. When you see a familiar brand, get excited, and check the price just in case it's not a deal.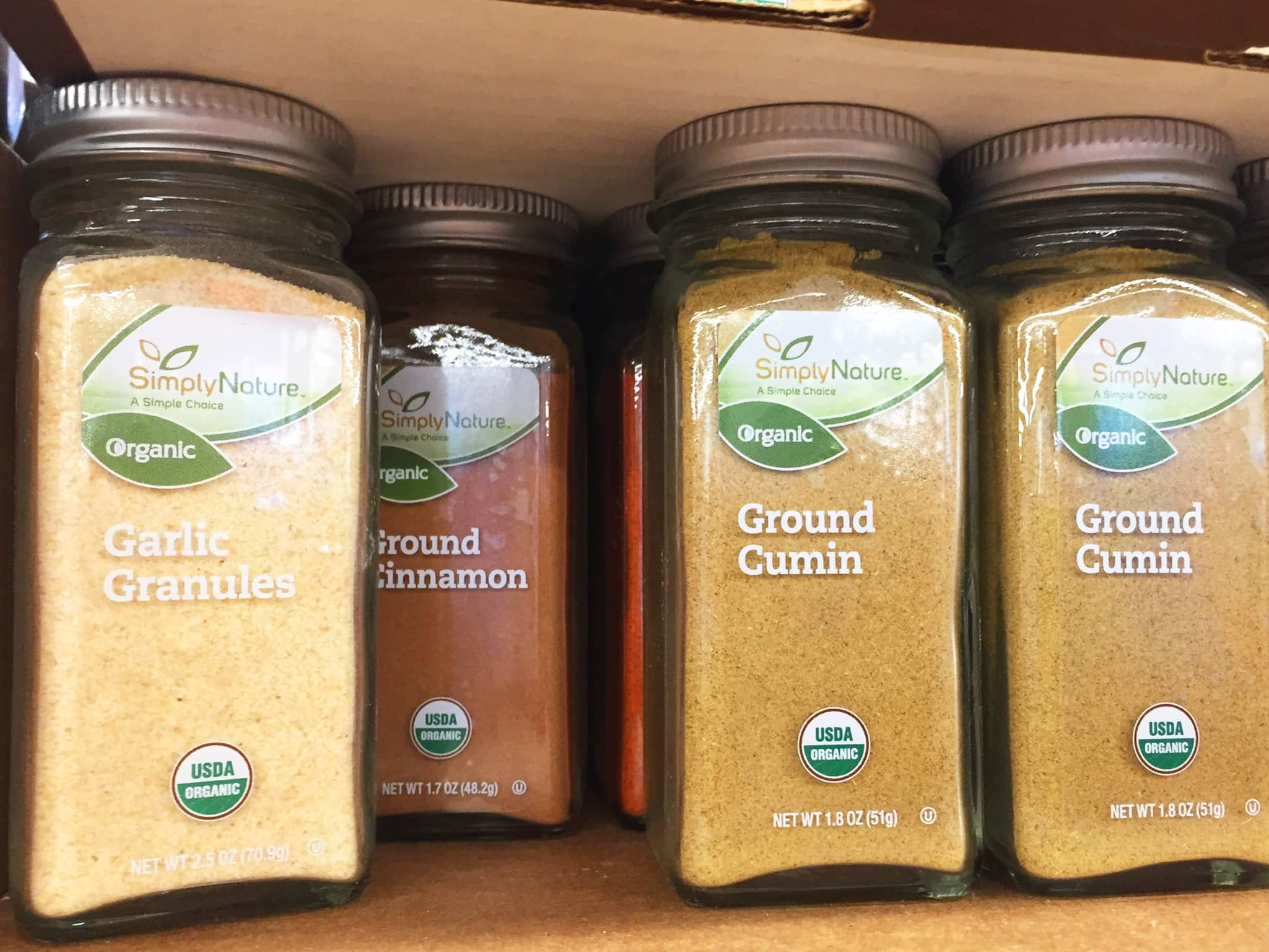 2. There are a lot of "knock-off" products.
Aside from the familiar brands you might see, Aldi has its own line of products. That's great because it means we get to save a ton of money! But it surprises me that they don't get in trouble for it. As I walked through the aisles, I learned to look twice before I assumed something was a brand I was used to. The note on the Boulder brand paper products, "Compare to Bounty!" felt like an insult to my intelligence. I mean, I got that from the font and the blue and green accents; no need to spell it out.
All of the store products I bought were good, and comparable to the brand-name items, but if you care, make sure you look twice.
3. The produce is pretty picked over by Sundays.
There were a couple things I wasn't able to pick up in the produce aisle, but what I did pick up was in pretty good shape. Tomatoes on the vine were significantly less than they are at my regular store and I scored a package of mini organic cucumbers for $3.49. The organic options for fruits and greens were plentiful, and the prices were rock bottom. There was a mildly terrifying picture on one package of tomatoes, but they tasted good.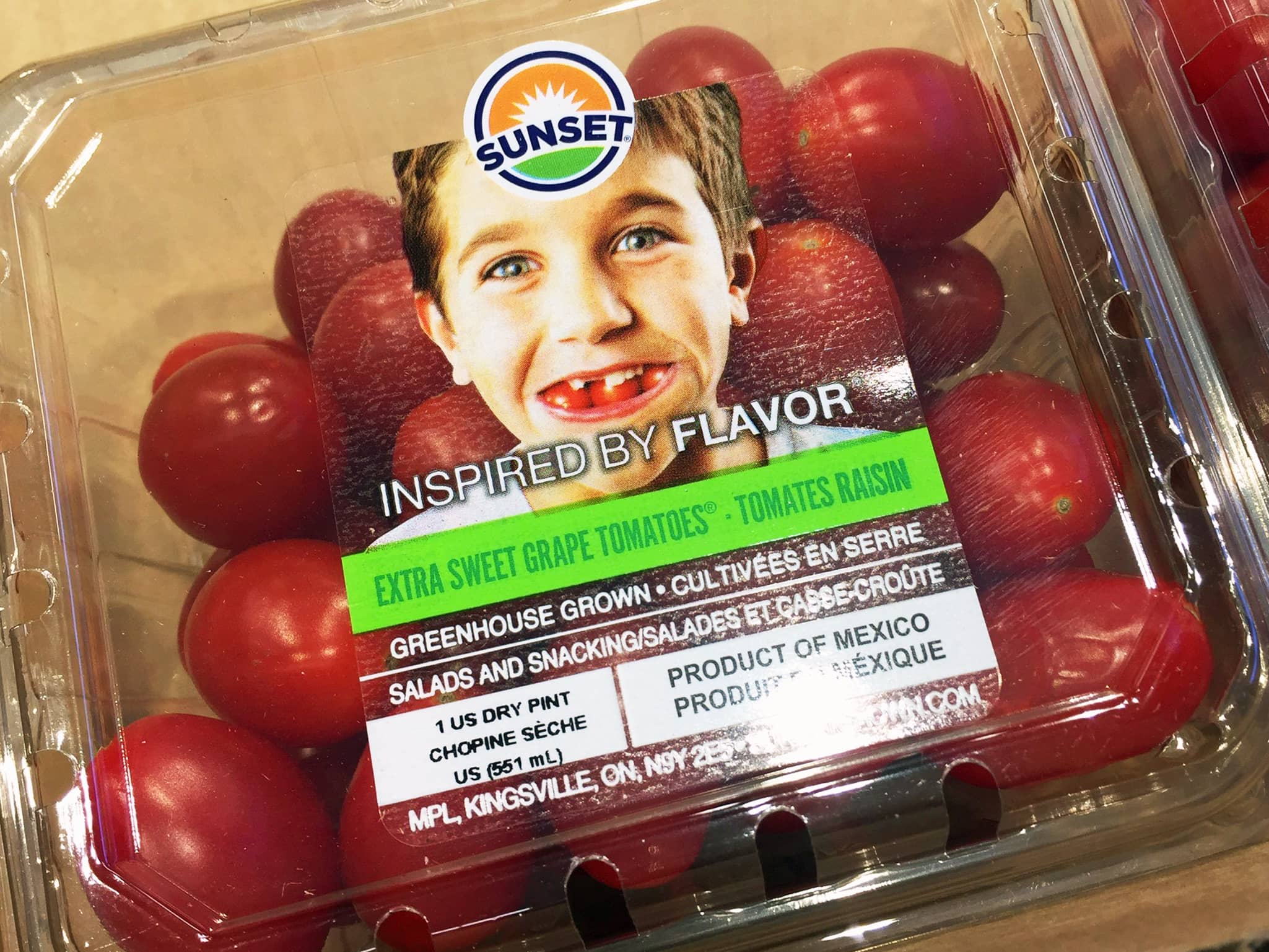 I don't know that I would go to Aldi specifically for the produce, if only because Trader Joe's is similar in price, closer to me, and has a larger selection, but there were definitely things worth buying.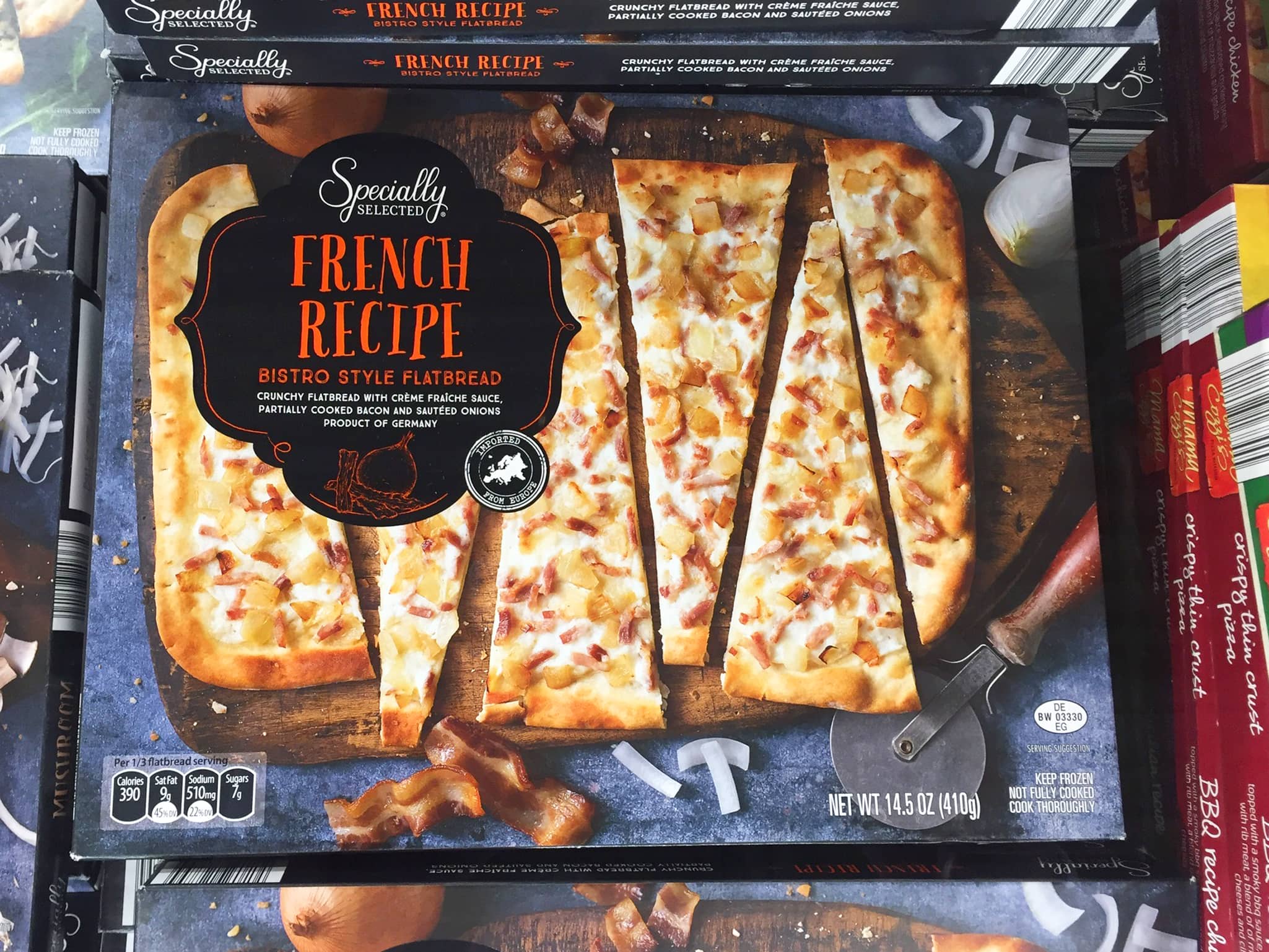 4. Aldi has the cheapest snack food around.
I was late to the Trader Joe's bandwagon, but in my town I've found I get the most bang for my buck there. I never thought I would buy as many prepared snack foods as I do, but teenagers change things. Do you remember being a teenager? You'd come home from school, down two huge bowls of cereal and milk, and no one needed to worry if you'd still be hungry at dinner — because you totally would.
Aldi has good snack food, like frozen spinach and mushroom flatbread, and that kind of thing is about a dollar cheaper than Trader Joes, and a lot cheaper than regular grocery stores. They had corn tortilla chips for $1.99 and organic salsa for $2.19, which has become my idea of a reasonably healthy snack. They don't, however, have the selection that I find at other stores.
Another thing I noticed about Aldi was that it was so very clean. See that flatbread above? It was behind glass. I reached for it and knocked my hand on the glass because it was so clean I didn't know it was there. Cheers to that!
5. You have to buy one of these pizzas.
Mama Cozzi's supreme take-and-bake pizza for $5.99 is everything. It's huge — and fed four of us easily — and it tasted amazing. We had to bend the crust to fit it onto my over-sized jelly-roll pan. The ratio of cheese to sauce was just right, the crust was the exact consistency we like, and the toppings were plentiful. And for $5.99, I'd spend 15 minutes and a few cents on gas to go get one and still come out ahead.
If you shop Aldi for no other reason, do it for this pizza. I would eat this pizza again right this second.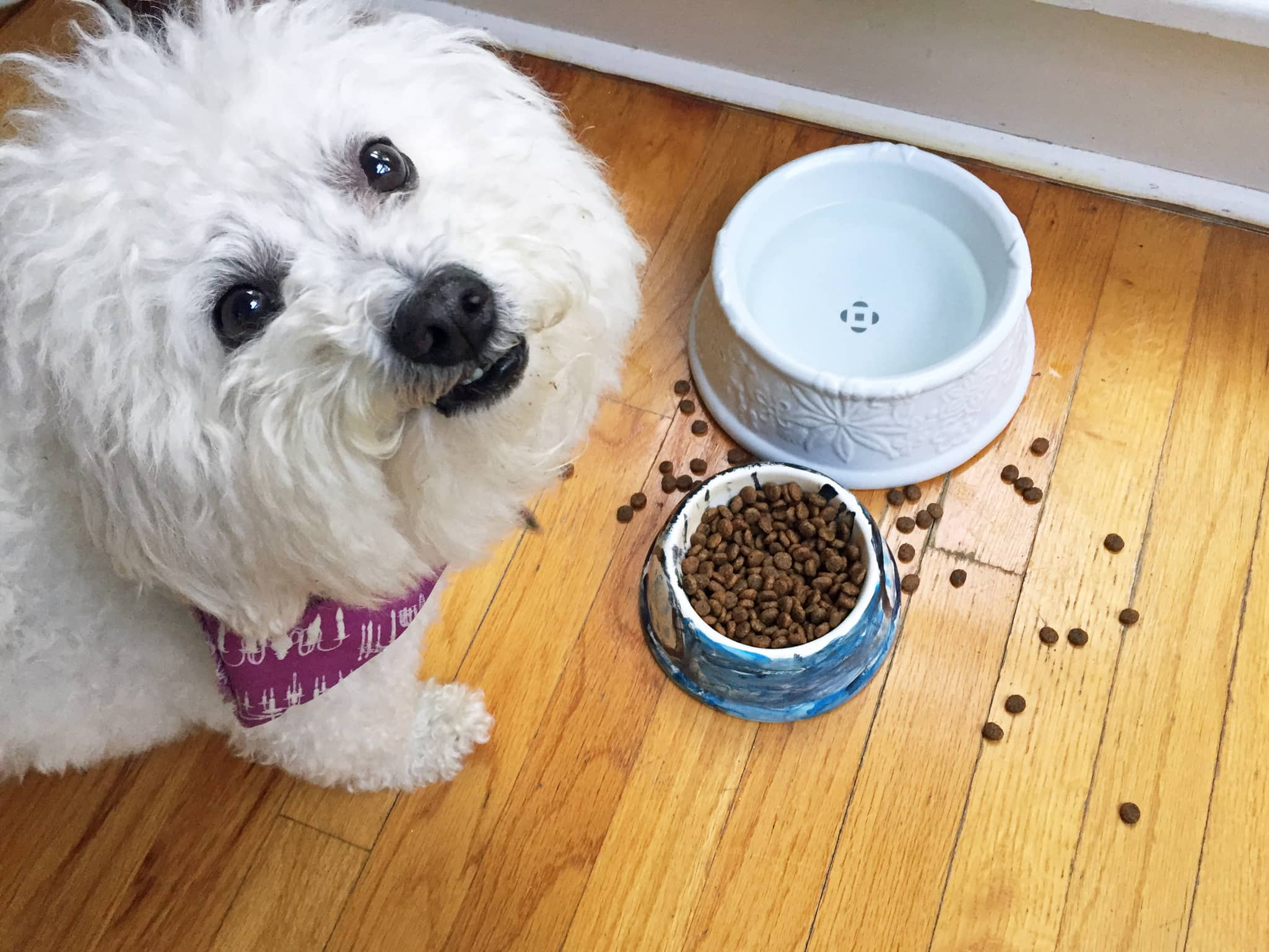 6. Aldi isn't just about inexpensive groceries.
Aldi is more than a grocery store, but you already knew that. There were a few non-food items that were great bargains, like ibuprofen for adults and children, a paper shredder for $15, table umbrellas for less than $30, imitation Girl Scout Cookies that were a decent approximation of the real thing (although, sadly, don't support the Girl Scouts like the real thing), dishwasher tablets that work well ($2.49 for 20), store-brand Swiffer-style cloths, and grain-free dog food.
The dog food was the biggest surprise and we'll be going back for it. Our dog Shiro is a food snob. Normally we fill his bowl, he sniffs, and walks away, only going back when he thinks we aren't looking. He dove into the bowl of food from Aldi, and looked up and smiled in thanks. And guess what? The food we were giving him is $3.53 a pound, but the Aldi food is $1.49 a pound.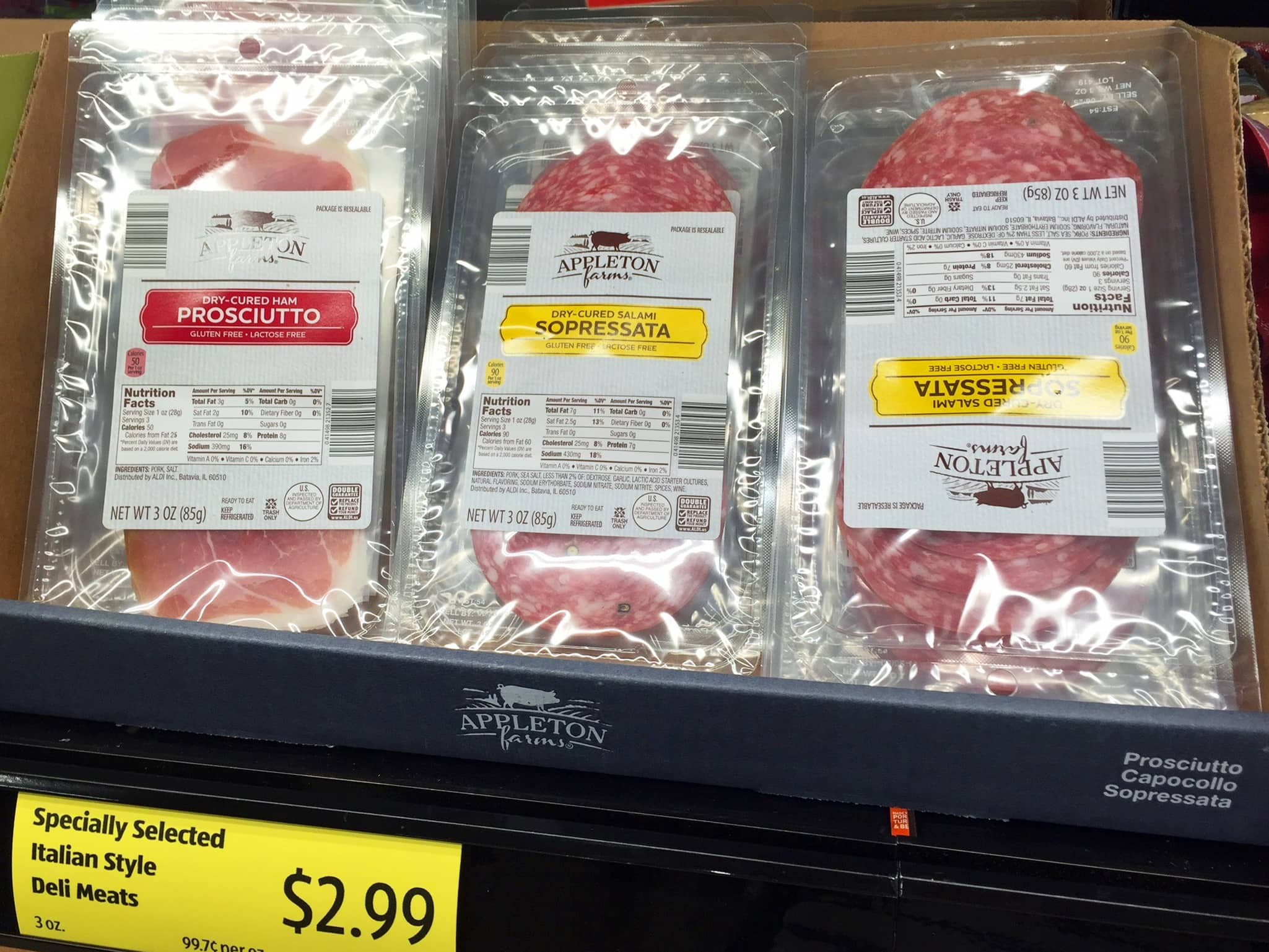 7. Pass on the fancy cheese and meat, but do buy a chocolate bar.
So, my dear Facebook friends, I'm going to have to disagree a little. The prosciutto and soppressata were the only things I saw to replace our usual choice, the assorted Italian pack at Trader Joe's. The price was the same per ounce, but we like choices when it comes to cured meats. The cheese selection wasn't too impressive either. We got a brie that was inexpensive, but best for making grilled cheese or melting on a tart. Aldi does have a good price on Cabot cheeses (more than a dollar less than my regular store).
But the chocolate? Pretty great. I scored some really nice things for Easter and a few bars just to eat. They were delicious, without the waxy taste that some cheap chocolate can have. In fact, I'm eating some of the chocolate with almonds right now and thinking, "Darn. This is delicious." At $1.49 for a 5.29-ounce bar, I could eat this whole thing in one sitting without feeling too frivolous. Cool? Or should I save you a bite? Hurry.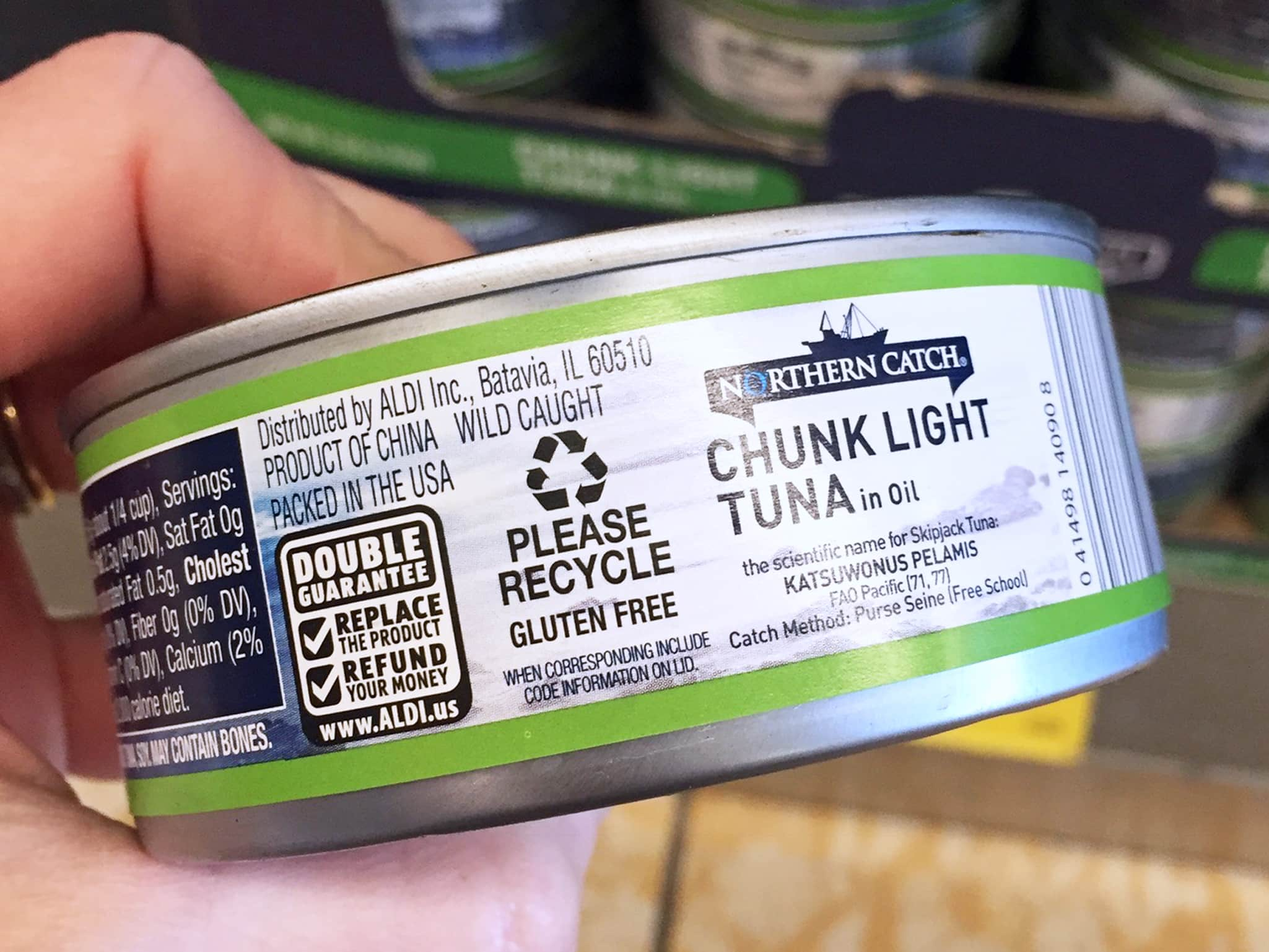 8. Did I mention that things are really, really inexpensive?
I compared some the prices of some of my standard grocery items between Aldi and Publix. Aldi was the least expensive every single time, besides when it came to whole chicken (when it was the exact same price).
Tuna packed in oil: Aldi, $.65 and Publix, $2.79
Cafe Bustelo, 10 ounces: Aldi, $2.89 and Publix, $4.39
Refrigerated pie crusts (2): Aldi, $1.49 and Publix, $4.09
Tomatoes on the vine (4 to 5): Aldi, $2.29 and Publix, $3.29
Corn chips: Clancey's at Aldi, $.99 and Frito-Lay at Publix, $4.09
Organic milk (.5 gal.), generic: Aldi, $2.95 and Publix, $4.69
Flavored sparkling water, 12-pack: Aldi, $2.99 and Publix, $5.79
Old Bay Seasoning, 5 0z.: Aldi, $3.69 and Publix, $5.69
Whole chicken, antibiotic-, hormone-, cage-, and steroid-free, per pound: Aldi, $1.49 and Trader Joe's, $1.49
Margaret Holmes tomato, okra, and corn (canned): Aldi, $.89 and Publix, $1.59
Bag of apples, 3 pounds, assorted varieties: Aldi, $2.99 per bag and Publix, $4.79 to $5.99 per bag
Diced tomatoes with green chiles: Aldi, $.45 and Publix (Rotel brand), $1.59
Cabot cheddar cheese: Aldi, $3.29, and Publix, $4.59
Perfectly ripe mango (1 medium): Aldi, $.99, and Publix, $2.39.
9. The grocery cart situation is actually pretty awesome.
At Aldi you have to pay a quarter in order to get a grocery cart, and then you get the quarter back when you return the cat. I love this because I think it's a very minimal request that could lead to a lot more personal responsibility. After all, all of our grocery prices go up if carts are damaged in the parking lot and the store has to replace them. Also? It leads to lovely, brief interactions with people. On the way in, a nice woman gave me her cart and refused to accept my quarter. On the way out, I did the same for someone else.
The only other place I've seen this routine was in Italy, at the Ipersimply. In fact, Aldi is the closest to an Ipersimply that I've seen here in the States. Like the Impersimply I frequented, they have what you need, the prices are low enough that you don't get too picky, and you have to pay for a cart. Also, you can get things like beach umbrellas and potting soil.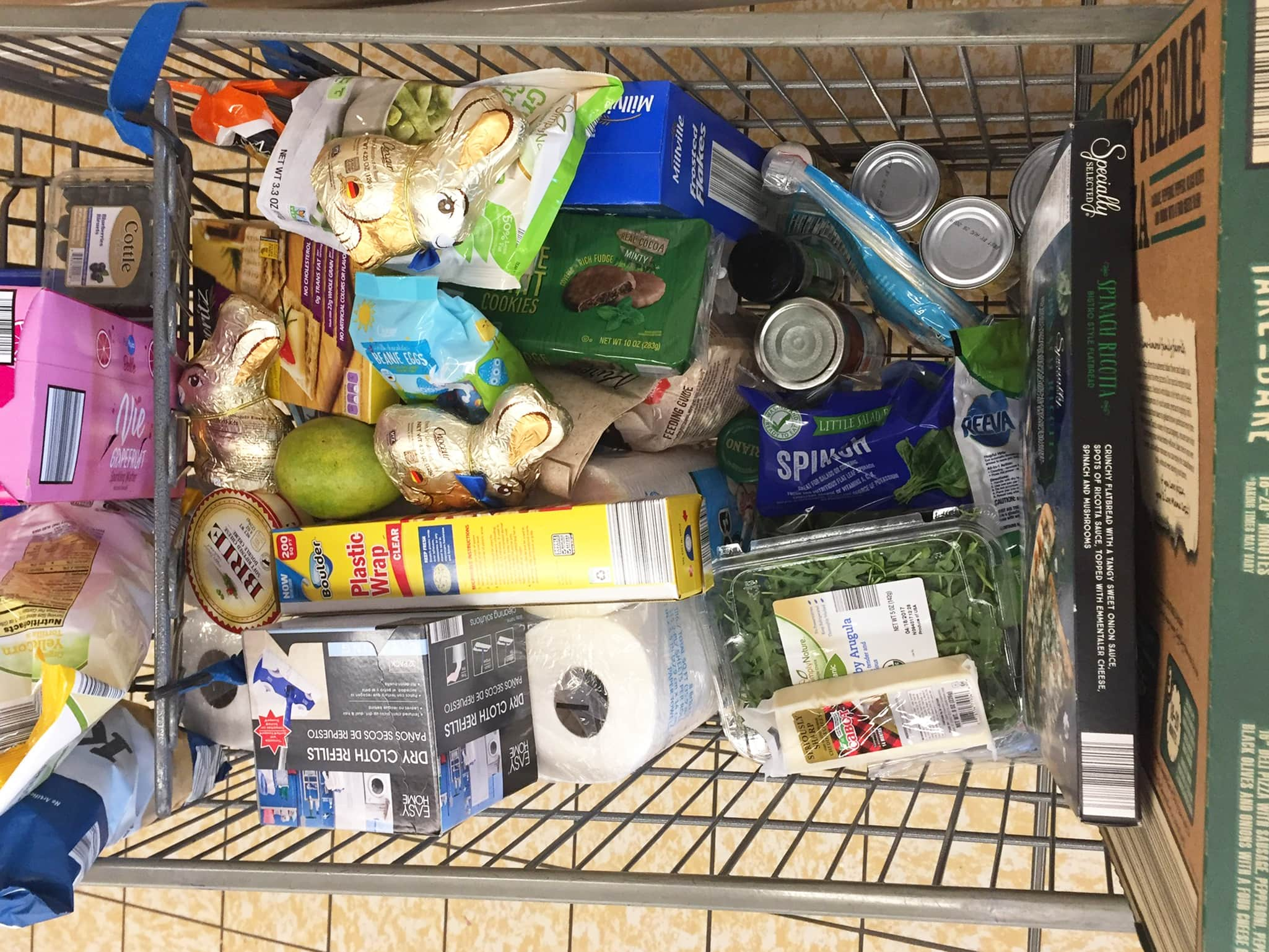 10. The best part about Aldi is the checkout process.
The checkout process is nothing short of brilliant and I wish every store, everywhere did it this way. The cashier rang up my groceries quickly, and Tetris-ed them into the cart like a boss. After paying, everyone walks over to a long counter where you can pack your own groceries exactly how you want them, without feeling rushed. But just look at that masterpiece above: That cashier organized my groceries so quickly and so well that putting them in bags was a pleasure. For real.
My Final Thoughts on Aldi
While I don't know if I'm a total convert, I'll definitely go back. What I didn't like was the lack of selection, especially since I don't have time to shop more than once a week so I like to do it all in one store.